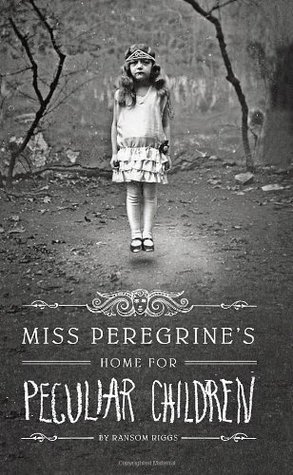 Book Title: Miss Peregrine's Home for Peculiar Children
Author: Ransom Riggs
Edition: Paperback
Pages: 352 (has a lot of photographs)
Genre: Young Adult, Mystery, Paranormal, Adventure, Time Travel.
Release date: June 4th 2013 by Quirk Books
Synopsis:
A mysterious island. An abandoned orphanage. A strange collection of very curious photographs.
It all waits to be discovered in Miss Peregrine's Home for Peculiar Children, an unforgettable novel that mixes fiction and photography in a thrilling reading experience. As our story opens, a horrific family tragedy sets sixteen-year-old Jacob journeying to a remote island off the coast of Wales, where he discovers the crumbling ruins of Miss Peregrine's Home for Peculiar Children. As Jacob explores its abandoned bedrooms and hallways, it becomes clear that the children were more than just peculiar. They may have been dangerous. They may have been quarantined on a deserted island for good reason. And somehow—impossible though it seems—they may still be alive.
A spine-tingling fantasy illustrated with haunting vintage photography, Miss Peregrine's Home for Peculiar Children will delight adults, teens, and anyone who relishes an adventure in the shadows.
Review: From the moment I started reading this book I fell right into it and I couldn't stop reading, it was much different than any book I've ever read and it kept me interested til the end, but it wasn't the best book I've read and I don't even feel like I want to reread it and usually with books that I love, at the end I always feel like I can't wait to re-read them.
The first time I read the synopsis for this book I wasn't interested in it at all, I honestly didn't think I'd even enjoy it a little but I was wrong.
I did love a lot of the characters they kept me really interested and amused and if the characters weren't as interesting and as great as they were I don't think I would have enjoyed this book as much, so a huge plus for the characters!.
Last thing I want to talk about are the pictures, I absolutely adored all the pictures, they were really cool and creepy and I really loved that, and this book wouldn't have been as good without them.
Stars:
4 out of 5 Stars
Will I re-read?:
Nope, probably not.
Will I read the next book?:
Ofcourse I will, I already bought Hollow City, I just grabbed it straight away when I saw it.
Have you read Miss Peregrines Home for Peculiar Children ?
If yes, Did you enjoy it ?
If not, Will you be reading it ?