Hello everyone it has been a while!, I haven't been blogging as you can see or reading actually, for over a year now, in 2015 I only read 4 books!, 4 books!!, my goal was 50, but I only read four, I was just in such a slump and I was never in the mood to read anything. I feel like it was all because of the pressure i pot on myself to read, I tried so hard to force myself to read and to get into a few different books but it just didn't work and I got sick of it and took a long break. This month though I am going to set a small goal for myself and read only two books and hopefully the slump will go away because it's definitely not welcome here, and hopefully I will read more than two books this month but since it's been a while I'll just make a small goal of two books.
The books I plan on reading in February are: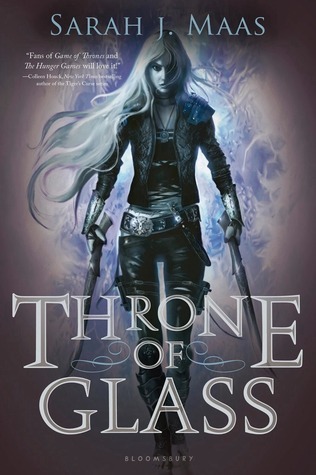 Title:
Throne of glass
Author:
Sarah J. Maas
Published:
August 2nd 2012
Pages:
404
Synopsis:
In a land without magic, where the king rules with an iron hand, an assassin is summoned to the castle. She comes not to kill the king, but to win her freedom. If she defeats twenty-three killers, thieves, and warriors in a competition, she is released from prison to serve as the king's champion. Her name is Celaena Sardothien.

The Crown Prince will provoke her. The Captain of the Guard will protect her. But something evil dwells in the castle of glass--and it's there to kill. When her competitors start dying one by one, Celaena's fight for freedom becomes a fight for survival, and a desperate quest to root out the evil before it destroys her world.
Title: The sky is everywhere
Author: Jandy Nelson
Published: March 9th 2010
Pages: 277
Synopsis:
Seventeen-year-old Lennie Walker, bookworm and band geek, plays second clarinet and spends her time tucked safely and happily in the shadow of her fiery older sister, Bailey. But when Bailey dies abruptly, Lennie is catapulted to center stage of her own life - and, despite her nonexistent history with boys, suddenly finds herself struggling to balance two. Toby was Bailey's boyfriend; his grief mirrors Lennie's own. Joe is the new boy in town, a transplant from Paris whose nearly magical grin is matched only by his musical talent. For Lennie, they're the sun and the moon; one boy takes her out of her sorrow, the other comforts her in it. But just like their celestial counterparts, they can't collide without the whole wide world exploding.

This remarkable debut is perfect for fans of Sarah Dessen, Deb Caletti, and Francesca Lia Block. Just as much a celebration of love as it is a portrait of loss, Lennie's struggle to sort her own melody out of the noise around her is always honest, often hilarious, and ultimately unforgettable.
So we'll see at the end of the month if I met my goal, I do hope I'll finish both of them and if I don't I hope I atleast finish one.
Until next time!
Nevena.