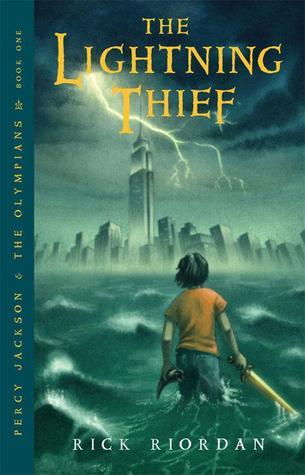 Book Title: The lightning thief (#1)
Author: Rick Riordan
Series: Percy Jackson and the Olympians
Genres: Middle Grade, Greek Mythology, Fantasy, Adventure..
Pages: 377
Published: March 1st 2006 by Disney Hyperion books
Synopsis: Percy Jackson is about to be kicked out of boarding school... again. And that's the least of his troubles. Lately, mythological monsters and the gods of Mount Olympus seem to be walking straight out of the pages of Percy's Greek mythology textbook and into his life. And worse, he's angered a few of them. Zeus' master lightning bolt has been stolen, and Percy is the prime suspect.

Now Percy and his friends have just ten days to find and return Zeus' stolen property and bring peace to a warring Mount Olympus. But to succeed on his quest, Percy will have to do more than catch the true thief: he must come to terms with the father who abandoned him; solve the riddle of the Oracle, which warns him of betrayal by a friend; and unravel a treachery more powerful than the gods themselves.
My Review: I have no idea why I didn't just read this book sooner, I really regret waiting this long to read it, because I freaking loved it, I loved it so much that I went back into the book store and bought the rest of this series so I could read it all at once. I've always loved Greek mythology and the fact that it's a big part of this series makes me love it so much more.
I honestly don't have much more to say about this book except that I freaking loved it and I recommend it to everyone!, next time someone asks me for a good book to read this might be my first response haha. When I first decided to read this series I was so afraid that I would hate it because so many people raved about this series (especially booktubers) and I was scared that it was over-hyped, but it wasn't, it totally deserves all the love it's getting.
Stars: 5 stars out of 5
Will I continue on with the series ?: I am already half way through the second one haha, I just need more time so I can read, school is kind of in the way haha.
Have you read this book or this series ?
What did you think of it ?