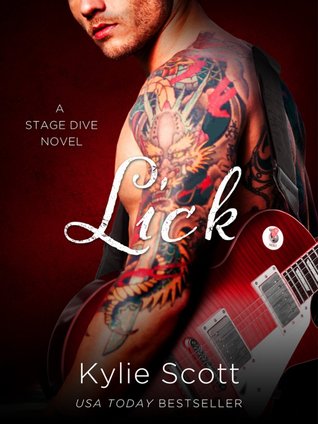 Book Title:
Lick
Author:
Kylie Scott
Series:
Stage Dive #1
Genres:
New Adult/Adult, Contemporary
Published:
October 11th 2013 by St. Martin's Griffin
Synopsis
:
Waking up in Vegas was never meant to be like this.

Evelyn Thomas's plans for celebrating her twenty-first birthday in Las Vegas were big. Huge. But she sure never meant to wake up on the bathroom floor with a hangover to rival the black plague, a very attractive half-naked tattooed man in her room, and a diamond on her finger large enough to scare King Kong. Now if she could just remember how it all happened.

One thing is certain, being married to one of the hottest rock stars on the planet is sure to be a wild ride.
Review: Before I start my review I just wanted to say that I have been in a huge slump, it's the end of April right now and I've only read 3 books (that is shockingly low for me, last year during April I had read over 30 books or somewhere around 30). I tried so many times to get out of it, but nothing worked.
One night I was so bored I decided to look up books and just pick something and try to finish it, and I found the Lick by Kylie Scott and I just got sucked into the book, it was funny, sexy and just everything I was looking for in a book at that time, I just couldn't put it down so I read the whole series in 2 or 3 days (there are 4 books in this series), this series got me out of my slump and for that I am really grateful.
I loved the characters, the plot line, the romance, and just about everything in this book (there were parts that were a bit cheesy I guess but it's totally fine).
If you are looking for something funny and sexy to read I really recommend this book and this series.
Stars: I give this book 4.5 stars out of 5.